Untitled [Infinite]
, 2008/14
Sheep manure, ashes and coal on wood
Nomenclature
, 2014
Various objects
"Trono"
, 2008/14
Various materials
"Trono"
, Detail
"Trono"
, Detail
View of the exhibition
Untitled
, 2008
Drawing pen on paper
"Rebanho 02.14"
, 2011
Inkjet archive print on alucolic
"Rebanho 03.14"
, 2014
Inkjet archive print on alucolic
"Rebanho 04.11"
, 2011/14
Inkjet archive print on alucolic
"Paisagem 05"
, 2012/14
Sheep manure, ashes and coal on carboard
"Pedra na Paisagem"
, 2014
Sheep manure and coal on wood
View of the exhibition
"Paisagem 06"
, 2012/14
Sheep manure, ashes, bones and coal on wood
Untitled
, 2010
Inkjet archive print on cotton paper
Untitled
, 2010
Inkjet archive print on cotton paper
"Mundo de Sísifo"
View of the exhibition
"Veredas 01"
, 2009
Inkjet archival print on fine art paper mounted on PVC
Untitled
, 2005
Video projection [video 4:3, color, sound -'--]
Untitled
, 2014
Iron, wool, sheep carcass
Veredas
In the "
Veredas
" [Paths] series the time is cyclical [not linear or industrial], where everything seems to be extinguished to be reborn after.
The materials used to do the paintings were gathered in the paths at the sierras while walking through them. They are the remains of a "performance" that Ivo Andrade done and he stills do, which isn't possible to be observed by our cultural sphere.
Here the time more than a concept, is a statement.
Various organic materials like sheep manure, grains of sand, bones, wool, coal and ashes were collected over a period of more than a decade resulting from the walks through the paths formed by the flocks and wild animals in the sierras where the artist have born, and were used to create landscapes inspired on the places where them were gathered.
The observer not only sees the picture but also smells it. The smell [from the sheep manure] has here an important role being determinant the way it activates distant memories carrying our mind to a characteristic place.
Untitled [Infinite] - View of the exhibition
"Fuga", 2014
Inkjet archive print on alucolic

"Trono", Detail
Untitled, 2014
Video projection instalation, shrubs covering the ground of the exhibition room [video 16:9, color, sound 3'02]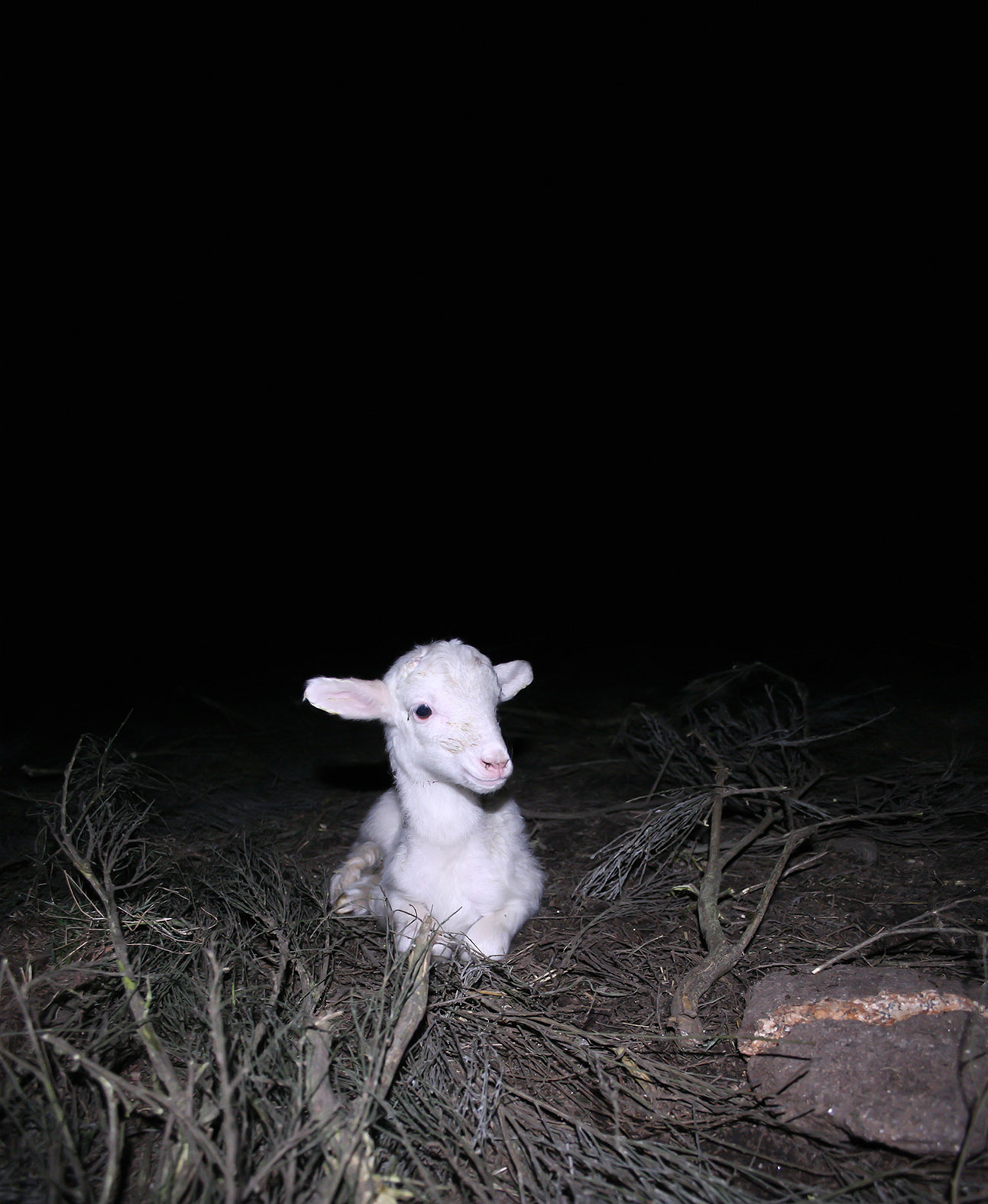 "De Vrij" [o Liberto]
Inkjet archive print on alucolic
"Rebanho 01.04", 2004
Inkjet archive print on alucolic
View of the exhibition
"Rebanho 05.14", 2014
Inkjet archive print on alucolic
View of the exhibition
"Paisagem 04", 2012/14
Sheep manure, ashes and coal on Wood
"Monocromo de Merda", 2010
Sheep manure on carboard
"Paisagem 07", 2014
Sheep manure, ashes and coal on carboard
View of the exhibition
View of the exhibition
Untitled, 2010
Inkjet archive print on cotton paper
"Mundo de Sísifo"
Sheep manure, coal and cetonia aurata beetle
"Veredas 02", 2009
Inkjet archival print on fine art paper mounted on PVC
"Bolras", 2014
Inkjet archive print on alucolic
Untitled, 2014
Iron, wool, sheep carcass